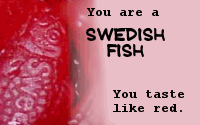 Take the
What Will Your Result To This Quiz Be? Quiz
The people who know the people I work with will see the complete humor in the above test result. Mmm... swedish.
Do you know
Jack Schitt
? Hehe.
I bought Remy Zero's
The Golden Hum
on Friday night, and I'm digging it.
Upcoming Shows:
4/28/2 - ArtOfficial Tour
5/3-5/2 -
River Stages
: Incubus, Counting Crows, Garbage, No Doubt, et.al.
5/30/2 -
Usher w/ Nas & Faith Evans
7/9/2 -
Dave Matthews Band
7/13/2 - Sonshine (hopefully)
And then the as yet unscheduled Nelly show.
Oh no. I just read that my
old college
is trying to do away with
the end-of-the-year nekkid soccer game
held annually on the library lawn. I admit to having been a spectator in '99 when I went back for what would have been my graduation. It is really less of a big deal than what administrators would lead you to believe... but yeah, if gross old locals are setting up camp with their folding chairs and coolers, that's just not right.